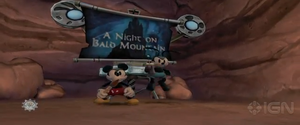 The Night on Bald Mountain
is the final segment in
Fantasia
(1940). It is considered to be one of the scariest Disney moments in history. 
A big, black demon, Chernabog summons from their graves, empowered restless souls. In Wasteland, It is a Projector Screen that connects the Angel Side of Rainbow Caverns to Disney Gulch, as well as the Mad Doctor's old attic to the final boss battle in Epic Mickey 2: The Power of Two.
References
Ad blocker interference detected!
Wikia is a free-to-use site that makes money from advertising. We have a modified experience for viewers using ad blockers

Wikia is not accessible if you've made further modifications. Remove the custom ad blocker rule(s) and the page will load as expected.