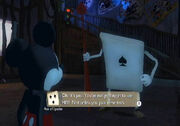 The Ace of Spades is a playing card from Thru the Mirror, a Mickeyjunk Mountain resident, and Oswald's right-hand man. He's the one that tells Mickey to complete the three challenges.
Quotes
"Oh, it's you. You're not getting in to see HIM. Not unless you pass some tests."
"Here's the first test. Prepare to have your ticket punched."
"Not bad. But you'd better be of the right 'calibur' if you're gonna make it through the next one."
"I can't think of any witty puns for this last one. Just jump through the Projector Screen, okay?"
"Oswald did it in half the time, but I guess you can go on through."
Ad blocker interference detected!
Wikia is a free-to-use site that makes money from advertising. We have a modified experience for viewers using ad blockers

Wikia is not accessible if you've made further modifications. Remove the custom ad blocker rule(s) and the page will load as expected.