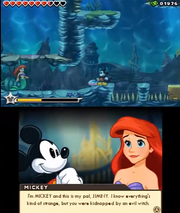 Ariel
is a mermaid from the Disney movie
The Little Mermaid
. She has a light reddish - chestnut hair color with a long turquoise tail.
She makes her first appearance in Epic Mickey: Power of Illusion, where she has been sucked into Wasteland by Mizrabel, trapping her in the Castle of Illusion.
She can be found in Under the Sea, near the beginning of the level. She needs to be painted in, after which she will leave the area and return to the Fortress, opening her own room. She will ask Mickey to help her in finding her friends amongst other things.
Quests Given
Gallery
Ad blocker interference detected!
Wikia is a free-to-use site that makes money from advertising. We have a modified experience for viewers using ad blockers

Wikia is not accessible if you've made further modifications. Remove the custom ad blocker rule(s) and the page will load as expected.