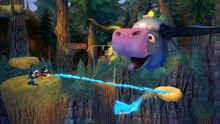 Babe is a character from the animated short Paul Bunyan. Babe is a big blue ox who was found in the snow by Paul Bunyan. Afterwards Babe became Paul's closest friend. He was later sent to Wasteland, and appears in Fort Wasteland as part of the scenery.
An image of Babe also appears on the Fortified achievement, one earned after successfully traversing the Fort.
Ad blocker interference detected!
Wikia is a free-to-use site that makes money from advertising. We have a modified experience for viewers using ad blockers

Wikia is not accessible if you've made further modifications. Remove the custom ad blocker rule(s) and the page will load as expected.