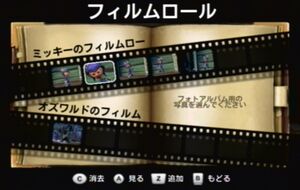 The
Camera
is an item you can obtain in
Epic Mickey 2: The Power of Two
.
Is it given to Mickey Mouse by Adelle from the Camera Shop, who refuses to accept payment from the hero.
It can be used to take general photographs, as well as those of certain areas and Hidden Mickeys and Hidden Oswalds. There are several quests that require the use of the camera in order to complete them.
Taking Pictures
Pictures can be taken anywhere in the game (excluding cutscenes). When activated, a mark will appear to show the center of the image. If the mark turns green, it means the target will count as part of a quest.
Both Mickey and Oswald have their own film roll, both of which will eventually fill up. When this happens, they need to return the roll to the Camera Shop, and save favorite pictures to the Photo Album.
If, however, taking photographs from a Picture Spot, the photograph will not be added to the album, but will still be counted.
Trivia
Despite being their leader, Adelle won't give the camera to Oswald, even if he speaks to her first.
Ad blocker interference detected!
Wikia is a free-to-use site that makes money from advertising. We have a modified experience for viewers using ad blockers

Wikia is not accessible if you've made further modifications. Remove the custom ad blocker rule(s) and the page will load as expected.