Note: The Digicomics app is no longer available on the App Store, so this page may not be expanded upon in the future.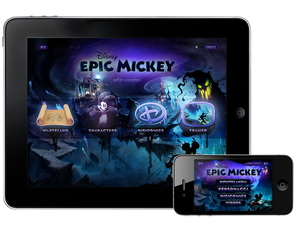 Disney Epic Mickey Digicomics app (or simply Epic Mickey app) is a teaser app for iOS that contains the digicomics Tales of Wasteland and the Epic Mickey graphic novel, the preview videos for the Epic Mickey game, the characters profile section, and the map of Wasteland.
Map
Characters
Digicomics
Videos
Trivia
The app is no longer on the App Store, likely due to Disney shutting down Junction Point. Since being removed, the app will sometimes crash at random and when when trying to exit a comic.
Gallery
Refrences
Ad blocker interference detected!
Wikia is a free-to-use site that makes money from advertising. We have a modified experience for viewers using ad blockers

Wikia is not accessible if you've made further modifications. Remove the custom ad blocker rule(s) and the page will load as expected.