This article is about the popular Disney toon. For his animatronic counterpart, see Animatronic Donald.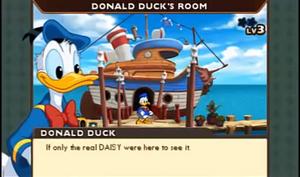 Donald Duck is one of Mickey's best friends. He makes his first appearance in the series in Epic Mickey: Power of Illusion, where he has been sucked into Wasteland by Mizrabel. He is trapped in her Castle of Illusion, where Mickey will need to save him.
Donald can be found in Castle West Hall. Mickey will need to leap into a cannon in order to reach him. Once he has been rescued, he will open up his own room in the Castle West Wing of the Fortress.
Quests Given
Ad blocker interference detected!
Wikia is a free-to-use site that makes money from advertising. We have a modified experience for viewers using ad blockers

Wikia is not accessible if you've made further modifications. Remove the custom ad blocker rule(s) and the page will load as expected.