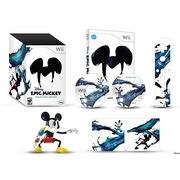 The chain store Toys "R" Us released Disney Interactive Studios' Epic Mickey: Collector's Edition for the Nintendo Wii. It contained the original Epic Mickey game as well as several other special items only obtainable in the box set.
Info
The Edition had an RRP of $69.99 USD, and includes:
Epic Mickey Game Disc
"Making of Epic Mickey" DVD Feature, with more than 5 Hours of Content
Collectible 6" Mickey Mouse Figurine
Nintendo Wii Faceplate and Wii-mote Skins boasting Epic Mickey Artwork of Mickey Mouse and Oswald the Lucky Rabbit
Ad blocker interference detected!
Wikia is a free-to-use site that makes money from advertising. We have a modified experience for viewers using ad blockers

Wikia is not accessible if you've made further modifications. Remove the custom ad blocker rule(s) and the page will load as expected.