A wiki all about the original wii game, The Power Of 2 and its 3DS spin off! Want to help out? Check out /How to help to get started!
4th July 2015
Hello all! In case you haven't heard, we're in the process of unlocking some early levels/dialogue for Epic Mickey 2. We'll keep you updated. In the meantime, new poll. - GremlinPrescott
A long time ago the sorcerer Yen Sid created a pen-and-paper world for his forgotten characters, held in an intricate model on a table, and accessible through a mirror. Mickey who finds himself inside Yen Sid's study, sees the model, and waits until Yen Sid is gone before going back to take another look at it. Mickey decides to create himself using paint but instead creates the Shadow Blot. Mickey tries to clean up the mess he made but instead spilled paint thinner on the model and allowed the Shadow Blot to enter the Wasteland. Mickey manages to escape without Yen Sid knowing, returning to his world where he went on to live to years of success and fame, but his meddling had consequences. The Paint Thinner allowed the main antagonist of Epic Mickey, the Shadow Blot to invade the paper-pen world and engaged in a series of war with the world's ruler, Oswald the Lucky Rabbit in the Blot Wars. The Blot wins over this struggle, and Oswald now blames Mickey for all this fiasco. Mickey, already plunged into the world by the Shadow Blot, must gain the trust of Oswald and defeat the Blot once and for all.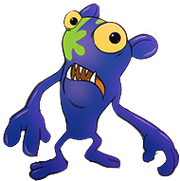 Spatters

Spatters are common enemies in the Epic Mickey series. They resemble anthropomorphic paint spatters. They are one of the assembly of Blotlings that Mickey must face. (more..)


"This is all
Small Pete
's fault. Poor
Gus
."
-
Gremlin Raul
,
Epic Mickey

...That
Warren Spector
once proposed an
Epic Mickey
movie to Disney?

Do you still keep an eye on Epic Mickey in general?
Check out previous polls here!