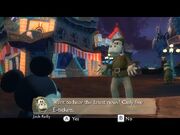 Jack Kelly
is a horse who hangs around
Mean Street
. He seems to be in the news business, as he regularly offers
Mickey
the latest
Wasteland
news for five
E-Tickets
apiece. However, this is rarely news he does not already know.
He reappears in the sequel inside the Camera Shop. Here, he just says about him paying Mickey for telling him a scoop.
Trivia
It is possible that he was created after Jack Kelley, the main character of Disney's musical "Newsies", considering they share the same name and are both in the news business.
In the sequel he now is a Cow for unknown reasons.
Ad blocker interference detected!
Wikia is a free-to-use site that makes money from advertising. We have a modified experience for viewers using ad blockers

Wikia is not accessible if you've made further modifications. Remove the custom ad blocker rule(s) and the page will load as expected.