The Lion is a character seen briefly towards the end of the 1928 short Oh What a Knight starring Oswald the Lucky Rabbit.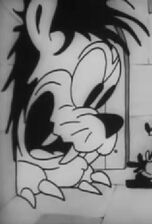 In the cartoon, it blocks the way and comes out of nowhere from the door when Oswald and Princess Ortensia try to escape Knight Pete's castle. It is assumed that it belongs to Knight Pete in the cartoon as it lives in his Castle.
The Lion made a extremely short apearance and has not appeared after that and eventually became a retired/forgotten character and sent to Cartoon Wasteland.
The Lion appears residing in Cartoon Wasteland in one of the Projector Screen levels. It occasionally breaks out of a door and you can jump on it's head and use it as a platform to get higher up in the castle. It will cause certain damage, if you don't do anything when it comes out of the door.