Maleficent's Goons
are a type of enemy found in
Epic Mickey: Power of Illusion
. They are copies of their toon counterparts, conjured using
Mizrabel
's magic. They carry a double sided skewer and walk back and forth. Unlike most enemies, when they spot
Mickey Mouse
they do not change their pacing.
There are two types of Goon.
Regular Goon
Mickey can defeat them with an attack made directly on their body, or by using Paint or Thinner.
Shielded Goon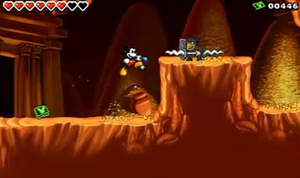 These Goons are almost identical in every way, except they protect themselves from Mickey's frontal attacks with a blue shield, rendering his Paintbrush useless unless he attacks them when they turn away.
These Pigs show up in the later levels, replacing their simpler counterparts.
Levels Found
Ad blocker interference detected!
Wikia is a free-to-use site that makes money from advertising. We have a modified experience for viewers using ad blockers

Wikia is not accessible if you've made further modifications. Remove the custom ad blocker rule(s) and the page will load as expected.