Mickey's Mechanical Man appears as two seperate 2D levels that connect some of the sections of Tomorrow City. In both scenes, Champ (the robot) is startled by Minnie's car horn. In Scene 1, he is losing the battle to Beppo the Gorilla, and in Scene 2, he is seen jumping on Beppo in an apparent victory.
Trivia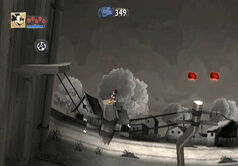 In the second level a car drives by and sets the Robot on its rampage, but in the original cartoon it was driven by Minnie whereas in Epic Mickey it is driven by the Army Oswald From the Great Guns Level.
The music for this level is included in the soundtrack in the song "Transistion games 2".
Ad blocker interference detected!
Wikia is a free-to-use site that makes money from advertising. We have a modified experience for viewers using ad blockers

Wikia is not accessible if you've made further modifications. Remove the custom ad blocker rule(s) and the page will load as expected.