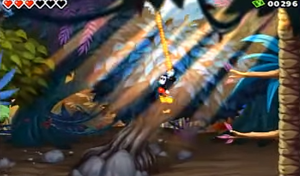 Never Land Jungle
is a level found in
Epic Mickey: Power of Illusion
. It is based off the same area found in
Peter Pan
. Several characters, including
Peter Pan
himself and
Tinker Bell
can be rescued here.
The Lost Boys are also present. Painting them in will allow them to shoot at nearby enemies with their slingshots. There are opportunities to swing on the branches to reach high places prizes. The level is also packed with many Pete Smashers throughout the level.
There are four quests associated with this level.
Rescuable Characters
Items
Enemies
Gallery
Ad blocker interference detected!
Wikia is a free-to-use site that makes money from advertising. We have a modified experience for viewers using ad blockers

Wikia is not accessible if you've made further modifications. Remove the custom ad blocker rule(s) and the page will load as expected.