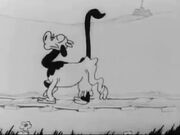 The Old Stubborn Cow is the assumed name for the cow that appeared in 1927 short Trolley Troubles. In it, she blocks the way from Oswald the Lucky Rabbit so he has to squeeze under it to continue. It eventually became a forgotten character and was sent to Cartoon Wasteland.
In Epic Mickey
The Old Stubborn Cow appears residing in Cartoon Wasteland and one of its Projector Screens based off Trolley Troubles. In it the cow blocks the path so Mickey has to hit a lever to sound a bell and get it to move.
The Old Stubborn Cow also appears as a Lost Character during the final battle with the Shadow Blot.
Ad blocker interference detected!
Wikia is a free-to-use site that makes money from advertising. We have a modified experience for viewers using ad blockers

Wikia is not accessible if you've made further modifications. Remove the custom ad blocker rule(s) and the page will load as expected.