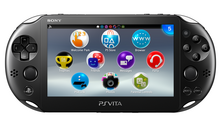 The Playstation Vita (often referred to as PSVita or PSV for short) is a handheld gaming system made by Sony. Epic Mickey 2: The Power of Two was ported to the system shortly after Junction Point Studios closed, with added wifi co-op, touch screen controls and some minor improvements to Oswald's AI.
Ad blocker interference detected!
Wikia is a free-to-use site that makes money from advertising. We have a modified experience for viewers using ad blockers

Wikia is not accessible if you've made further modifications. Remove the custom ad blocker rule(s) and the page will load as expected.