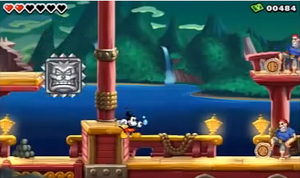 Pirates are a type of enemy found in Epic Mickey: Power of Illusion. They are illusions conjured up by Mizrabel in order to stop Mickey from freeing everyone from her Castle of Illusion. They will continually roll their barrels front of them in the hopes of hurting Mickey. Whenever one barrel has gone, they will bring out another to roll.
Despite this they are stationary, and they can be defeated by any attack, Paint or Thinner.
These enemies can only be found on the Jolly Roger.
Ad blocker interference detected!
Wikia is a free-to-use site that makes money from advertising. We have a modified experience for viewers using ad blockers

Wikia is not accessible if you've made further modifications. Remove the custom ad blocker rule(s) and the page will load as expected.