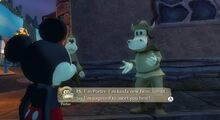 Porter is a Mean Street resident and friend of Rufus McBark. After Mickey defeats Captain Hook and/or frees the Sprite, Porter will arrive in Mean Street, claiming that he is new and that Rufus is showing him around. After Mickey confronts the Mad Doctor, he no longer appears and presumably becomes a Lost Character.
Ad blocker interference detected!
Wikia is a free-to-use site that makes money from advertising. We have a modified experience for viewers using ad blockers

Wikia is not accessible if you've made further modifications. Remove the custom ad blocker rule(s) and the page will load as expected.