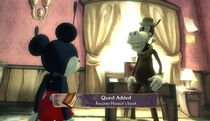 Quests
are objectives that
Mickey Mouse
has to complete in the 
Epic Mickey series
. There are plenty of optional Quests as well as mandatory ones. Here are all the lists of Quests from the different areas in the game.
Epic Mickey
Find Daisy's Album
Ice Cream for Henrietta
Pirates of the Wasteland
Billy's Lost Bag
Jungle Lanterns
Epic Mickey 2
Mean Street South
Underground
Mean Street North
Trivia
Ad blocker interference detected!
Wikia is a free-to-use site that makes money from advertising. We have a modified experience for viewers using ad blockers

Wikia is not accessible if you've made further modifications. Remove the custom ad blocker rule(s) and the page will load as expected.