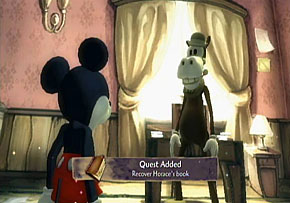 Recover Horace's Book
is a
quest
given to
Mickey
by
Horace
.
To start off the quest, you need to talk to Horace at Horace's Detective Agency, the building with the magnifying glass above the door. He might have a few other quests for you, so keep talking to him until you see a quest pop up at the bottom of the screen saying something about his book quest. Horace should have told you he lent the book to Casey at the Emporium. He's right across the street with the building that has the present over the door.
Once you talk to Casey, he tells you he finished the book and lent it to Paulie at the Ice Cream Parlor. Now let's go down the street, there is a building at the center of town with a Ice Cream Cone over the door. Now talk to Paulie, he has Horace's book and gives it back to you. Now its time to return it to Horace', go back up the street and talk to Horace' at the Detective Agency and your quest will be completed.
Ad blocker interference detected!
Wikia is a free-to-use site that makes money from advertising. We have a modified experience for viewers using ad blockers

Wikia is not accessible if you've made further modifications. Remove the custom ad blocker rule(s) and the page will load as expected.