See also: Scrooge's Shop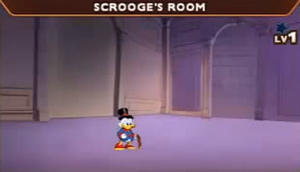 Scrooge's Room
is an area found in
Epic Mickey: Power of Illusion
. After rescuing him,
Scrooge McDuck
will set up this room until
Mickey
can find a way home for him.
Scrooge's Room will eventually start to transform into his office back home.
Unlike many of the other temporary residents, at Level 3 Scrooge will also convert his room into a store, allowing Mickey to purchase various items to aid him on his quest.
Trivia
Scrooge's Room is actually his Money Bin office from the TV show "Ducktales"
Gallery
Ad blocker interference detected!
Wikia is a free-to-use site that makes money from advertising. We have a modified experience for viewers using ad blockers

Wikia is not accessible if you've made further modifications. Remove the custom ad blocker rule(s) and the page will load as expected.