!
This quest page's infobox was automatically added by a bot, so it's missing some info, such as quest giver and reward. If you have any info to add, edit this article. (Remove this template once completed)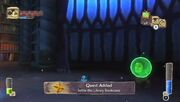 Settle the Library Bookcases
is a
quest
that can be found in
Lonesome Manor
.
Mickey
will need to
paint
in the skull heads to settle them.
One can be found on the floor in front of Madame Leona. Another is in the area where Gremlin Jumbo is. The final can be unlocked by pressinga concealed button in the wall from Leona's right at the very end (uncovered by thinning out the wall. You will then have 10 seconds to paint in the final skull.
Ad blocker interference detected!
Wikia is a free-to-use site that makes money from advertising. We have a modified experience for viewers using ad blockers

Wikia is not accessible if you've made further modifications. Remove the custom ad blocker rule(s) and the page will load as expected.