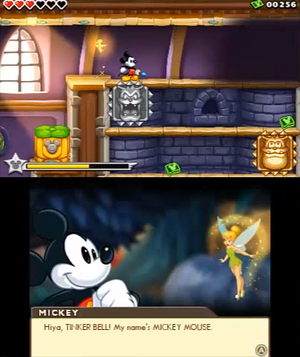 Tinker Bell
is one of the main protagonists in Disney's
Peter Pan
. She is also the star of many
Disney Fairies
movies and books.
She makes her first appearance in the series in Epic Mickey: Power of Illusion where Mizrabel has sucked her into Cartoon Wasteland and into her Castle of Illusion.
Tinkerbell can be found in Never Land Jungle. On the second playthrough, she will appear near the set of Pete Smashers are moving to and fro. After painting her in, Mickey will explain to her what's going on. She'll happily return to the Fortress as long as Peter Pan is there, and take up a spot in his room.
Tinker Bell will also lend you a bit of pixie dust later, so that you can use the You Can Fly sketch.
Ad blocker interference detected!
Wikia is a free-to-use site that makes money from advertising. We have a modified experience for viewers using ad blockers

Wikia is not accessible if you've made further modifications. Remove the custom ad blocker rule(s) and the page will load as expected.