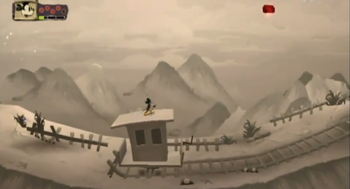 Trolley Troubles
is a 2D minigame level based on a cartoon with the same name featuring
Oswald the Lucky Rabbit
.
Gameplay
Trolley Troubles appears as the first of the three trials that Mickey has to overcome to get to see Oswald in his throne room. He has to use the trolley to progress through the level. Along the way, he will also encounter the Old Stubborn Cow.
Gallery
Ad blocker interference detected!
Wikia is a free-to-use site that makes money from advertising. We have a modified experience for viewers using ad blockers

Wikia is not accessible if you've made further modifications. Remove the custom ad blocker rule(s) and the page will load as expected.