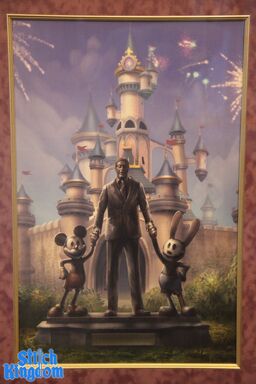 Walter Elias "Walt" Disney
(December 5, 1901 – December 15, 1966), was an American film producer, director, screenwriter, voice actor, and animator. One of the most well-known motion picture producers in the world, Disney was also the creator of an American theme park called Disneyland, and is the co-founder with his brother Roy O. Disney of Walt Disney Productions, the profitable corporation now known as The Walt Disney Company. Prior to this, he created the character of
Oswald
for Universal Pictures, who retained the rights to Oswald until 2006 when the Walt Disney Company regained them.
Epic Mickey
While he's never referenced by name in-game, he's often talked about. Mickey Mouse is surprised to find a statue of him on Mean Street that is the same as the one from Disneyland, except with Oswald the Lucky Rabbit in Mickey's place.
Obtaining 30 Power Sparks unlocks Walt's Apartment; entering the place causes Gremlin Gus to realize what it is and become choked up.
After the Shadow Blot escapes, Oswald reflects on seeing why Walt liked Mickey better.
Epic Mickey 2: The Power of Two
Walt's Apartment returns in Epic Mickey 2.
Ad blocker interference detected!
Wikia is a free-to-use site that makes money from advertising. We have a modified experience for viewers using ad blockers

Wikia is not accessible if you've made further modifications. Remove the custom ad blocker rule(s) and the page will load as expected.